The European Online Gambling Key Figures 2022 report, released by the European Gaming and Betting Association (EGBA), provides a comprehensive overview of the online gambling industry in Europe. The report highlights key trends, market dynamics, and the performance of various segments within the industry.
Market Revenue
The report reveals that Europe's gambling market revenue stabilized in 2022, reaching €108.5 billion in gross gaming revenue. This represents an 8% increase compared to pre-pandemic levels in 2019 and a 23% rise compared to 2021. The growth was primarily driven by the reopening of land-based gambling venues following the pandemic, with land-based gross gaming revenue increasing 34% to €70.3 billion in 2022. This accounted for 65% of total gambling revenue. Meanwhile, online gambling revenue increased by 8% to €38.2 billion gross gaming revenue, or 35% of Europe's total gambling revenue.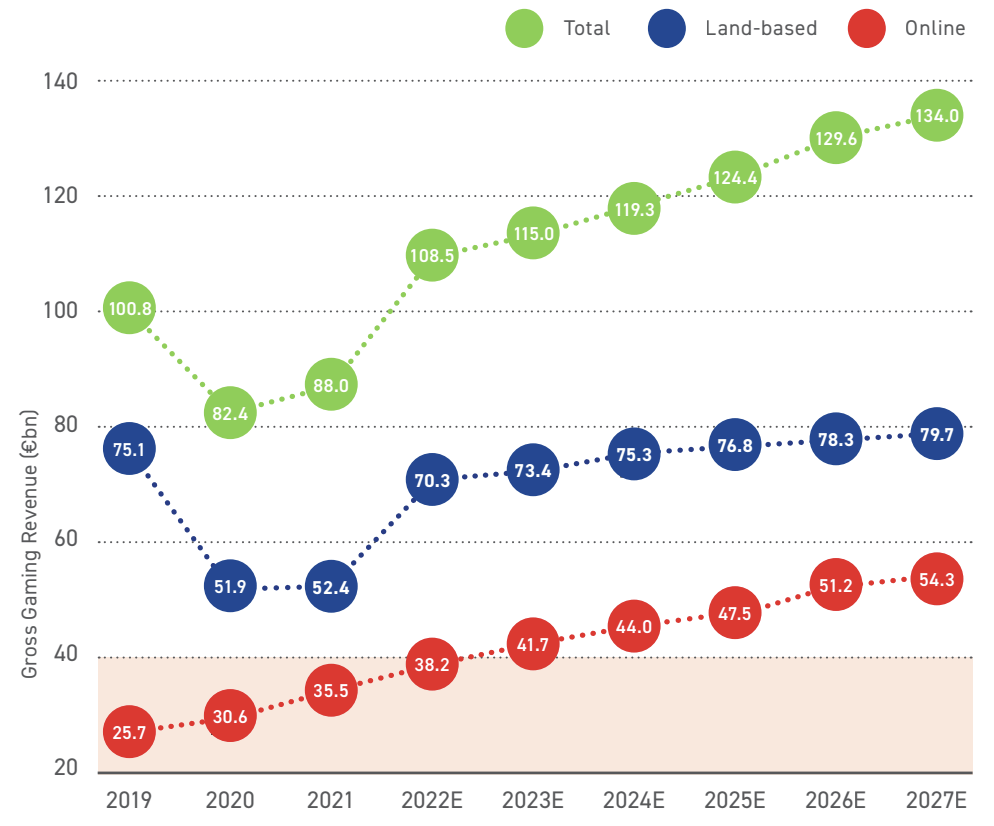 Popular Online Gambling Products
In 2022, the casino was Europe's most popular online gambling product by revenue, reaching €14.9 billion gross gaming revenue and accounting for 39% of Europe's online gambling revenue. Sports and other types of betting were close behind, generating €13.6 billion in gross gaming revenue and accounting for 35% of Europe's total online gambling revenue. Comparatively, EGBA members generate the biggest share (46%) of their online revenues from sports betting.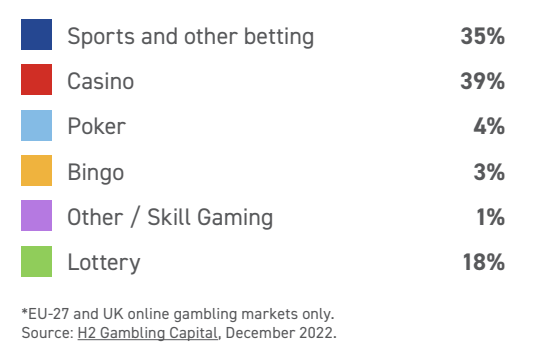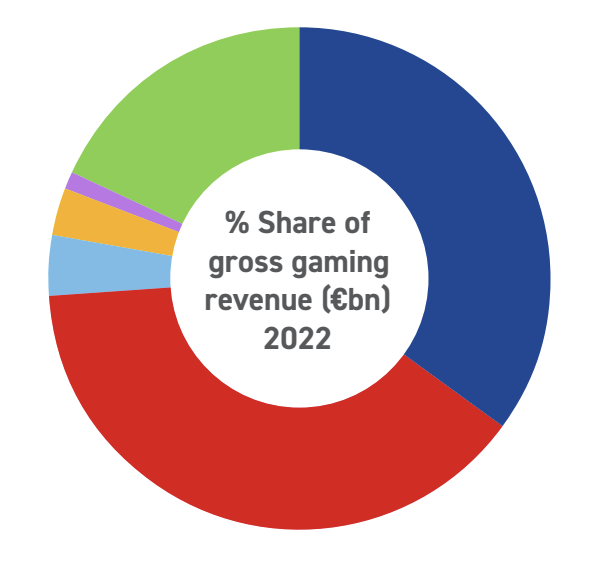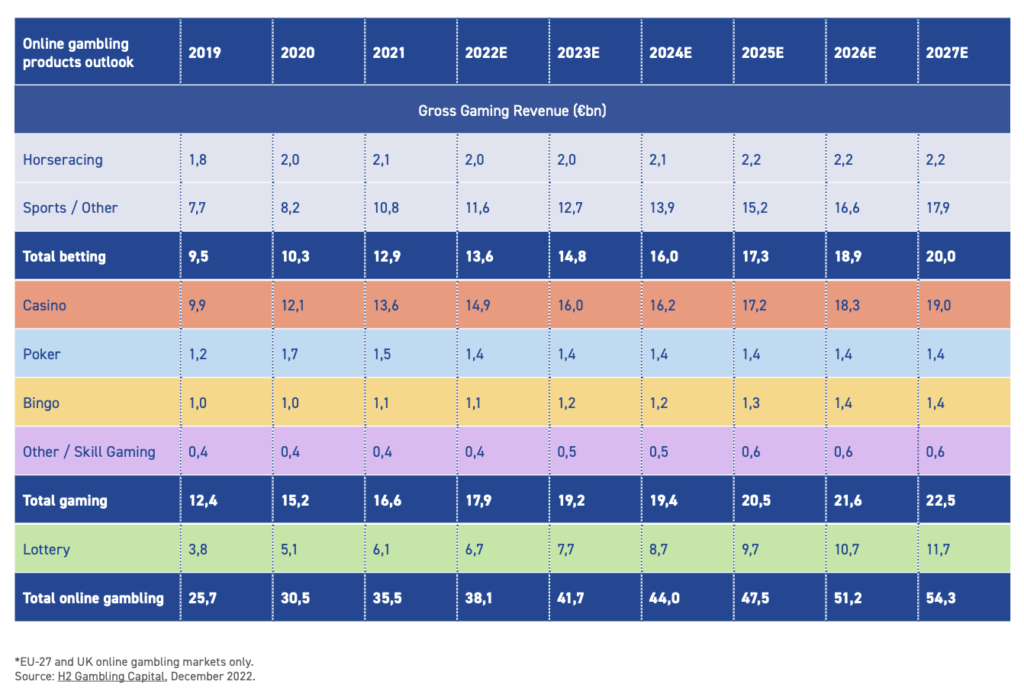 Betting Device Shares
The report also highlights the growing trend of online betting on mobile devices. In 2022, 53% of online bets were placed on mobile devices, with the remaining 47% placed from desktops. This trend is expected to continue, with mobile betting predicted to account for an increasing share of online gambling activity.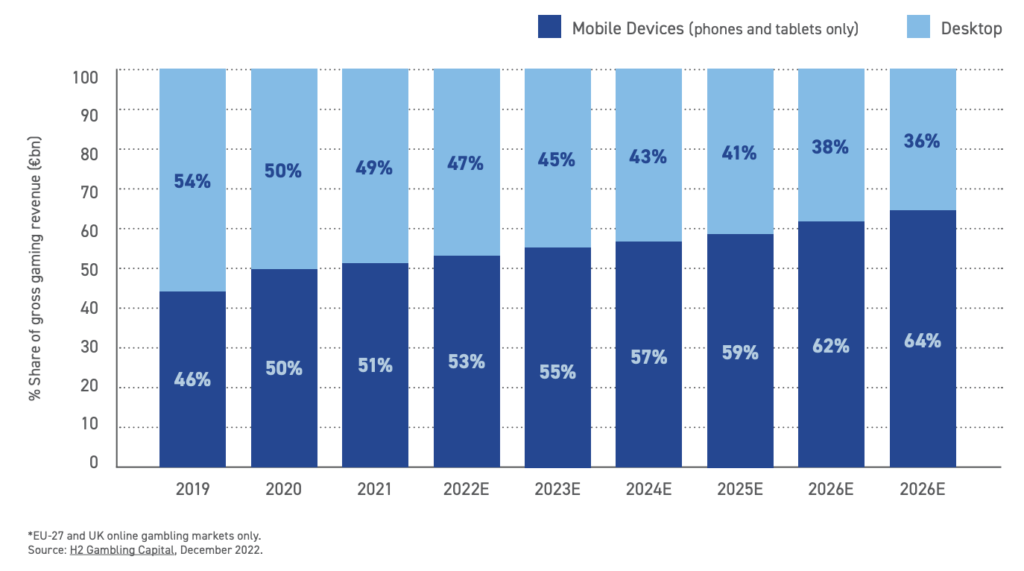 Online Gambling Product Shares of National Gambling Markets
The report shows significant differences in the online shares of the different national gambling markets in Europe. In 2021, Sweden had the highest share (80%) of its gambling activity taking place online, followed by Latvia (75%), Lithuania (67%), Romania (65%), and the UK (65%). However, many countries with much larger gambling markets, such as Spain, Italy, Germany, and France, still had a relatively low online share of their respective gambling markets.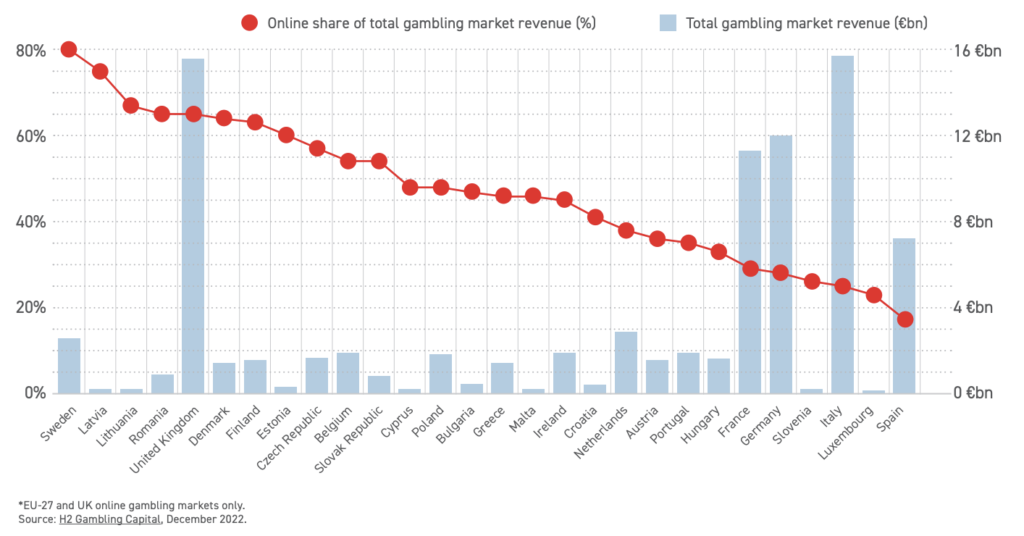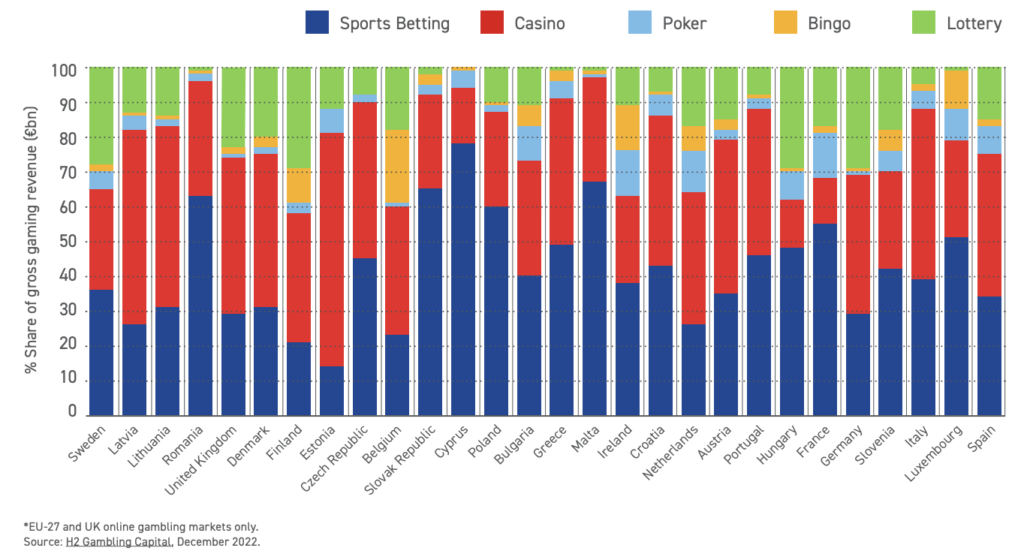 Licensing
The report also provides data on online gambling licenses. In 2021, EGBA members held 225 online gambling licenses across 21 countries.
In conclusion, the European Online Gambling Key Figures 2022 report paints a picture of a robust and growing industry, with online gambling playing an increasingly significant role. The industry's future growth will likely be driven by the continued shift towards online platforms, particularly mobile devices, and the ongoing expansion and diversification of online gambling products.